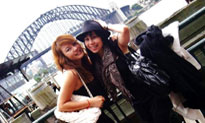 Phai, Sydney. "The Oak has always taken good care of me and always gives me good advice on schools, visa's and social life in Sydney. I never feel lonely here even though my family is in Thailand, because I have The Oak by my side.
Thank you so much!!" - Phai and her friend enjoying Sydney's Harbour Bridge and Circular Quay
Mrs Lertromyanand, Bangkok."Our family is very close and it was a big decision to send our daughter to study in Australia to study. A friend recommended The Oak and after meeting they gave us all the information we needed. They took their time listening to what we and our daughter needed and organised everything we wanted very fast and the price was reasonable. We are very happy with The Oak and we place our trust in them. Our daughter is very happy studying in Australia and we have traveled there several times to visit. It is a beautiful country." - Bangkok, Thailand
Lee, Sydney. "I came to Australia from Thailand to study two years ago. After problems with my first agent I changed my to The Oak Education and they helped me a lot and fixed my school and visa problems. They take the time to find the best school. Thankyou Kay".
Tom, Sydney. "I did not know what to study but very much liked Australia and wanted to learn more English and see how people in Australia live. With the help of The Oak Education I enrolled in the English course and I now study cookery and want to get permenent residency. I am very happy and The Oak is very helpful and trustworthy. They has helped me alot with visa and schools."