Study ABROAD promotions
Receive an email with our current
study abroad promotions.
study in an australian city
study abroad in new zealand
Click here...
study abroad in the uk
Click here...
online Application
To obtain more information or to take the first step in lodging an application to study abroad simply complete an
online application form
and we will be in contact within 48 hours.
Refer A Friend and receive $50

study abroad news
4-Apr-2013 | Canada pins hope on foreign studentsCANADA: The number of college and university students studying internationally has grown more than fourfold since 1975 — and Canada wants a larger share of that market. Read more...
4-Apr-2013 | Chinese alumni 'contribute $100m' AUSTRALIA: CHINESE alumni of Australian universities continue to bolster the local economy years after graduation, with the majority returning at least once and 20 per cent coming back more than five times over a five-year period. Read more...
30-Mar-2013 | Why Asian Kids Succeed NEW ZEALAND: Have you ever wondered why Asians kids are doing so well in maths and science at schools? Read more...
why is Australia a great place to study?
The country
Australia is a natural wonderland of beautiful beaches, crystal blue waters, amazing ancient rock formations and pristine rainforests.
Australia is the sixth largest country in the world. It's about the same size as the 48 mainland states of the USA and 50 per cent larger than Europe, but has the lowest population density in the world - only two people per square kilometre.
Australia's coastline stretches almost 50,000 kilometres and is linked by over 10,000 beaches, more than any other country in the world. More than 85 per cent of Australians live within 50 kilometres of the coast, making it an integral part of our laid-back lifestyle. 
Australia is the only nation to govern an entire continent and its outlying islands. The mainland is the largest island and the world's smallest, flattest continent.
Much of Australia's exotic flora and fauna cannot be found anywhere else in the world and the lifestyle is one second to none.
The People
Australia's original inhabitants, the Aboriginal and Torres Strait Islander peoples, have been living in Australia for at least 40 000 years and possibly up to 60 000 years.
The rest of Australia's people are migrants or descendants of migrants who have come from nearly 200
countries since the start of European settlement of Australia in 1788.
In 1945, Australia's population was about seven million people. Since then, more than 6.5 million migrants,
including around 675 000 refugees, have settled in Australia.
Today, Australia has a population of 21 million people, of which 43 per cent were either born overseas
or have one parent who was born overseas.
Australians of all religious, racial, ethnic and social backgrounds live together in peace.
The Climate in Australia
Australia is one of the driest countries in the world. Much of the interior is flat, barren and sparsely populated. Yet much of northern Australia has a tropical climate. Parts of Queensland, the north of Western Australia and the Northern Territory experience monsoon–type rainfalls during the wet season from January to March. In fact, Australia is so large that it experiences most climatic conditions, ranging from snow and frost to heat waves. The coldest areas are in Tasmania and the alpine areas in the south–east highlands of mainland Australia. The hottest areas are in the central west of the continent. Australia's seasons are the opposite of those of the northern hemisphere. Summer is from December to February, autumn is from March to May, winter is from June to August and spring is from September to November. July has the coldest average temperature. Average daytime temperatures are between 10 and 20 degrees Celsius (50 and 68 degrees F) in most of southern Australia, and in the high 20s or low 30s degrees Celsius (70s and 80s F) in the northern tropics. Temperatures below freezing are rare near the coast but many inland areas experience light overnight frosts in winter. In alpine areas, temperatures regularly fall below 0 degrees Celsius (32 F) and snow lies above 1500 metres elevation for several months a year. January and February are the hottest months in southern Australia, whereas in the tropics November and December are hottest. Average daytime temperatures are more than 30 degrees Celsius (80s or 90s F) in most inland areas, and reach near 40 degrees Celsius (104 F) in parts of Western Australia. They are cooler (20s C/70s or 80s F) near southern coasts, in highland areas and in Tasmania.

Source: <The Department of Immigration and Citizenship publication: Life in Australia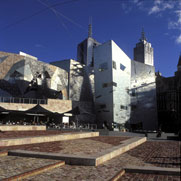 The Australian Economy
Australia has a strong market–based economy that is open, flexible and competitive. It has a stable and
modern institutional structure that provides certainty to businesses and a welcoming environment for international investment.
Australia is also a major regional finance centre with reliable domestic and international transport systems,
world–class information and telecommunication technology, a multilingual and highly skilled workforce and a
system of regulation. The Australian Stock Exchange is the world's eighth largest listed exchange measured
by market capitalisation.
Australia is a significant world trader, with its two–way trade in goods and services valued at more than
$400 billion – about 1 per cent of total world trade. Japan is Australia's largest trading partner, followed by
China, the United States, Singapore, the United Kingdom and the Republic of Korea.

Australian English
While English is Australia's national language, there are certain words and expressions that have become regarded as uniquely Australian through common usage, and some of them might seem strange or
confusing to new arrivals. These colloquial or slang words have many different origins. Some are shortened versions of longer words. Many were expressions already used by migrants who came from the north of England but which have since been adopted as Australian words. Australians also often shorten words, for example football becomes 'footy', television becomes 'telly' and barbecue, 'barbie'.
The use of some of these words, often coupled with an Australian sense of humour that is characterised by
irony and irreverence, can sometimes cause confusion. If you are unsure what an expression means, it is alright to ask the person who said it to explain. Some common expressions you might hear from time to time are:
Arvo: short for afternoon – 'drop by this arvo', means please come and visit this afternoon.
Barbecue, BBQ, Barbie: outdoor cooking, usually of meat over a grill or hotplate using gas or coals. The host serves the meat with salads and bread rolls. It is common for a guest, when invited to a BBQ, to ask if they should bring anything. A snag is the raw type of sausage usually cooked at a BBQ. They can be
made of pork, beef, chicken, vegetables or grains.
Barrack for: support or cheer for (usually a particular sports team).
Bloke: a man.
Shout: to buy someone a drink. At a bar or a pub when a group of friends meet, it is usual for each person
to 'shout a round', meaning buying everybody a drink. Each person takes a turn at buying a 'round'.

BYO: if you receive an invitation that says 'BYO', this means bring your own beverages. If you do not drink
alcohol, it is acceptable to bring juice, soft drink or soda, or water. Some restaurants are BYO. You can bring
your own wine to these, although there is usually a charge for opening bottles, serving and providing and
cleaning glasses called 'corkage'.
Cuppa: is a cup of tea or coffee 'drop by this arvo for a cuppa' means please come and visit this afternoon
for a cup of tea or coffee.

G'day: Hello. How are you?
Fair go: equitable treatment. This means that what someone achieves in life should be a product of their
talents, work and effort rather than an as a result of their birth or favouritism.
Fortnight: this term describes a period of two weeks.
No worries: The task or request will be carried out without fuss or bother.
There are a number of books on Australian colloquialisms and slang, including the Macquarie Dictionary
Book of Slang.
Source: The Department of Immigration and Citizenship publication: Life in Australia
Where can i get more information?
If you would like to find out more about Australia you can visit the following links below:
www.immi.gov.au - The Department of Immigration and Citizenship
www.bom.gov.au - The Bureau of Meteorology provide information on climate and weather conditions across Australia
www.abs.gov.au - Australian Bureau of Statistics provides statistical information on Australia and its population

www.australia.gov.au - Australian Government information and services
www.cultureandrecreation.gov.au - Australian Government Recreation and Culture Portal
www.dfat.gov.au/geo/australia - Department of Foreign Affairs and Trade provide information on Australian economic policy and issues